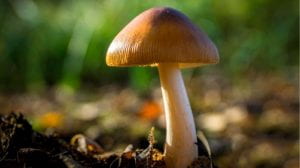 On Thursday we went down to the hoop house (as usual) and Shane said "Alright, let's go get some mushrooms"
we all went into the woods to find some mushrooms.
We took our red science books with us.
Maddy followed me because she did not know where mushrooms were.
When we got to the trail where the mushrooms where they were all smashed.
I think somebody trampled them when we got the hoop house for recess on Wednesday.
so Maddy and I found some that where not smashed.
they were brown and White with a tint of yellow.
the bottom of them looked like Crystals.
then we Drew them and it took about 10 minutes.
Maddy is a really good drawer.
we had to draw the grass and sticks next to them to.
the stick had a purplish tint to it.
After we drew them we wrote a Paragraph about them.
then we cut the bottom of the mushrooms and took it to Shane.
she put it on paper and put it in the hoop house.
and then we went to play Predator and prey.